---
Tetracam's Six Pack Micro SD Card Reader enables commercial users of Tetracam's multi-spectral imaging systems to maximize the work they get out of their remote sensing investment. When a user completes a mission with a Micro-MCA6, for example, with a Tetracam Six Pack they need only remove the system's image memories and insert new ones. This allows the aircraft and its Micro-MCA to immediately return to productive remote sensing operations. There is no need to tie up the imaging system or the aircraft while the image memories transfer their captured images to the host computer.
The Six Pack Micro-SD Card Reader enables host computers to connect to six high-capacity micro SD image cards simultaneously. When the reader is populated with six image cards from a mission, to PixelWrench2 – the software that comes with each of our systems – the cards look exactly like they do when a Micro-MCA camera array is attached directly to the computer. Consequently, all camera processing operations carried on by PixelWrench2 can proceed normally. There is no need to bring the multi-spectral imaging system to the host computer to perform processing operations nor transfer image data from individual image memory cards one card at at time.
Fast USB 2.0 Interface
Data is transferred from a Six Pack to the host computer by means of an ultra-fast USB 2.0 interface. Image data can be transferred from the image memory array at a rate of 480 Megabits per second (Mbps) or 60 MB per second. A three-foot long USB cable is included with each Six Pack. This may be used to connect the unit to the host computer or to another Six Pack.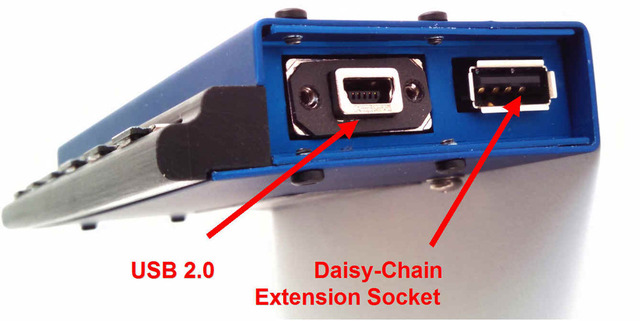 The Six Pack contains an extension socket for "Daisy Chaining" a second Six Pack when using these devices with a Micro-MCA 12 imaging system. Alternatively, the Daisy-Chain socket may be used to connect the Six Pack to the micro-SD memory card from an ILS or e-ILS unit. The e-ILS memory card should be installed in the daisy chain connector using the micro card SD USB adapter that is included with the ILS or e-ILS unit.

The Six Pack includes one LED adjacent to each memory slot. Each LED illuminates when an inserted Micro-SD Card memory is being accessed.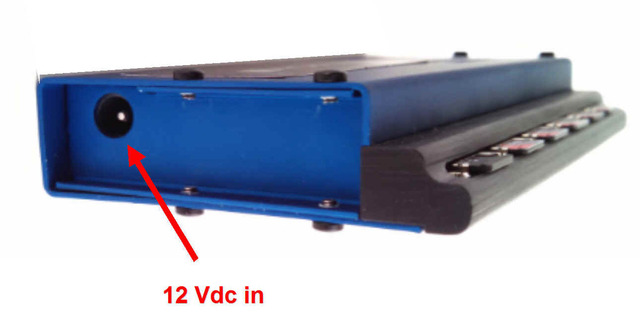 Power to Spare
The Six Pack is supplied with an external 2.0 Amp 24 watt power supply. This is connected to the Six Pack by means of an external 12 VDC Center Positive Power input jack. The power supply's beefy 24 watt power rating enables it to easily handle the standard 16 GB micro SD cards supplied with Micro-MCAs. With more than 3 watts allocated per memory slot, the Six Pack handles most micro SD cards with higher storage capacities as well. Check your card's power rating to be sure.
Ordering Instructions
The Six Pack Micro-SD Card Reader may be ordered with any new system order or it may be ordered individually as a system accessory. Contact us for current pricing, availability or further details.