NEWS
(Scroll down for more...)
NEW Macaw systems are shipping! Check out the Macaw page for more information and for the new webinar series!
NEW A free trial for Icaros OneButton is available! Click here to find out more!
Micro-MCA internal battery is available! Contact us for more information.
FLIR Tau IR and UV bands available for uMCA Snap
GoPro style Clevis mount adapter accessory for uADC
Single band UV / VISIBLE / NIR Cameras
Tetracam's new RGB+3 MULTI-CAMERA ARRAY is also its lowest priced.
For Micro-MCA Power Users: Micro SD Card Reader Six-Pack
---

Tetracam MCA products can now be configured with FLIR Tau sensors for IR image captures. The arrays can also mount a UV band using our new fused silica lens. These new cameras extend the band width of our arrays to include the range from 7500 to 13000 nanometers. Contact us for information about other TAU 2 products.
---
GoPro Style Clevis mount adapter for uADC
The popular GoPro RGB cameras are equipped with a Clevis mount for which a wide variety of adapters is available. Many UAV manufacturers have GoPro camera mounts and Gymbals which are compatible with the new ADC mounting option. End user recommended price for the option is $49.95.
---
Single band UV / VISIBLE / NIR Cameras
Tetracam's new line of single-band cameras is based on our popular ADC micro camera form factor. The cameras are configured with 1.3 megapixel monochrome Snap Shutter sensors with standard catalog filters that can be installed behind the lens.
Of special interest is the UV version, which with its fused silica lens can see short-wave energy in the 370 to 400 nm bands. Also available are conventional glass lenses for imaging narrow bands of the visible and NIR spectrum. The filters are field-replaceable, so the camera can be configured with different filters depending on the mission.
---
Tetracam's newest MULTI-CAMERA ARRAY is also its lowest priced. The RGB + 3 contains four registered and synchronized global snap sensors. These capture six bands; three broad bands of red, green, and blue and three changeable narrow bands of red (680 nm), red-edge (700 nm) and near-infrared (800 nm). The system is light and fast. It contains Tetracam's latest interfacing but most surprising is its price: $7995. Click here for more about Tetracam's RGB + 3.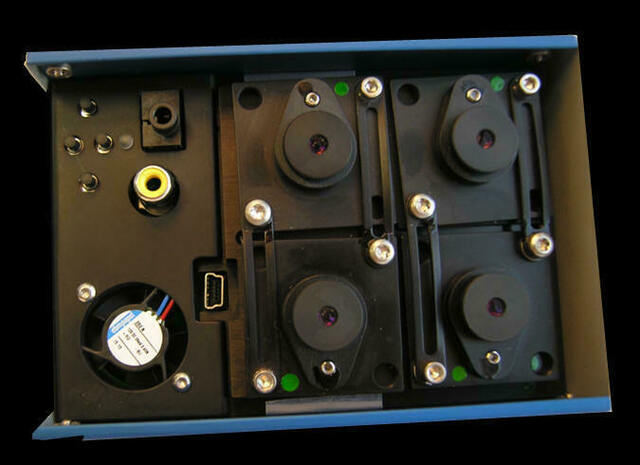 ---